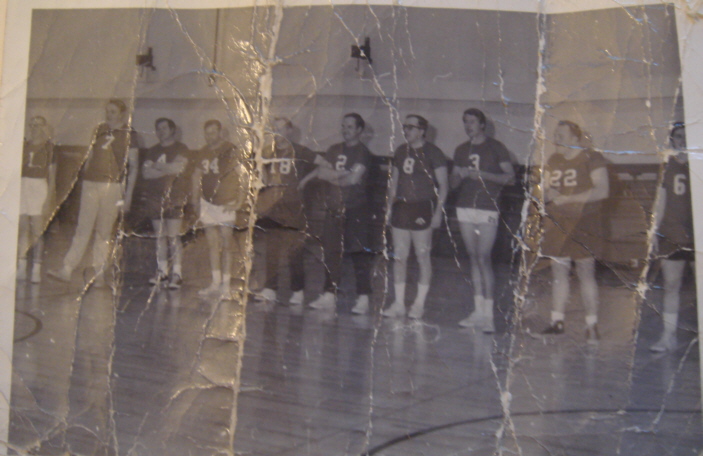 This crumpled photograph was found by Mr. Abukhamiss '85 in his (football field) flat closet on his day
of packing up and leaving the school. The date is obviously much older than 1985 and he has wondered
who these students are and from what year. Anyone recognize these Prepsters? Click contact if you know.
Update from Ed Schroeder '74: "The picture he has is from the 1974 faculty/alumni, student basketball game. Number 1 is Fr. Francis M. "tennis anyone." The big guys name is Carrigan he coached the school basket team 1973-1974. Fr. Ken, black rimmed glasses. Fr. Bill, leave that one alone, he may come back as a ghost and smack me..... Big chested guy Br. Finbar, now Fr. Finbar, school cook. The rest are alumni."

Update from Jim Pickard '51: "Yes, the year was 1974 and #1 is Father Francis, #4 is me, '51 Jim Pickard. Fr. Bill is #18 and I thin that #8 is Dick Allen '53. By the way Kerrigan is the correct spelling.. probably the best player we ever had.. he was '50..and is #7. Don't ask the score !!!!"
Note from Admin: Well, Jim, by the way this photo was crumpled and left for dead, maybe you guys actually won!
---